The New Normal installation
ZGDW 2020 | INSTALLATION
We Look forward to seeing you during Zagreb Design Week from 1 - 6 September! Meet us at the "food design" exhibition space featuring the NEW NORMAL installation designed by boir studio in collaboration with Ana Haberman.
THE CONCEPT
The New Normal installation explores the impact of the coronavirus pandemic on traditional dining rituals and the future that brings many restrictions to prevent the spread of the infection. The set-up juxtaposes "normal" and "new normal" contexts and is divided into two sections symbolically connected with a large dining table.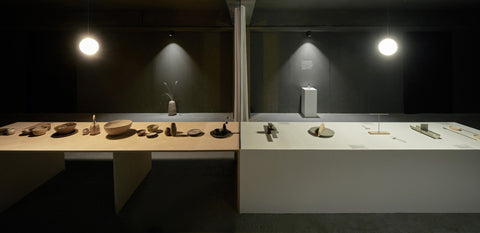 The first part of the exhibition is a display of a hand-made ceramics collection by artist Ana Haberman, created using the traditional pinching technique.
Each product is unique, taking us back to our roots to evoke feelings of intimacy and acts of sharing. Pinched tableware invokes a tactility that is gradually being lost in the "new normal" due to social distancing and fear of physical contact.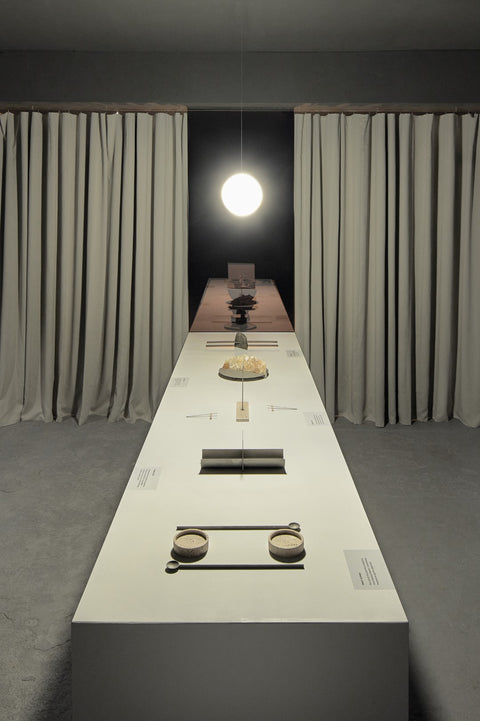 With its installation "The New Normal", studio Boir considers how to balance intimacy and safe distance within the context of the "new normal". We present new, conceptual tableware which, despite the new rules, retains that important social and cultural dimension of dining – sharing.
Prototypes made from surgical steel and natural stone are designed in response to plexiglass barriers that prevent any attempt of food sharing between a couple. The result is a collection of conceptual tableware for two that bridges the gap between intimacy and distance, enabling safe food sharing and simultaneously connecting and separating the served dishes.
The Normal
The New Normal