The Essence: Series of sculptures inspired by Prostoria products
PROSTORIA 10 | RESEARCH & EXHIBITION
Zagreb, Croatia 2021
An exploration of materials and methods in manufacturing utilizing material sculptures.
A collection of sculptures entitled 'The Essence' offers an interpretation of Prostoria's natural materials and master skill. The sculptures were created as a part of the Prostoria 10 exhibition - a celebration of Prostoria's ten transformative years in the furniture manufacturing business. The exhibition offered a comprehensive overview of the company's culture, aesthetic process, and philosophy.
At Prostoria, sustainability starts with the selection of natural production materials and design process - giving back by creating responsible furniture whose functionality, durability and comfort result in timeless aesthetics.
The sculptures capture the expertise and diverse skills of craftsmen, demonstrating their profound understanding of the
materials they work with. However, the true essence lies not only in the craftsmanship but also in the intrinsic qualities of each material itself.
The collection delves deep into the core features and possibilities of each material. Each sculpture is a unique interpretation and manifestation of the brand's most esteemed materials, providing five distinct perspectives on their essential quality.
Design & art direction: Boir studio | Photo: Marko Mihaljević
The Essence collection showcases a captivating series of material sculptures designed to evoke deeper understanding and offer an immersive experience by highlighting the essential characteristics of each material. It serves as an intriguing exploration into various materials and their manufacturing techniques through the medium of sculptural art.
Leather
The upper side of the Leather sculpture is strung between notches on the metal base and emphasizes the essence of the material's elasticity while maintaining the stability of curved shapes. The shape of the metal is inspired by the Shtef shelf, while the way in which the leather is fixed to the metal construction is inspired by the Strain armchair.
Foam
The Foam totem presents three stages in the production of the foam, its elasticity and interaction with other materials in the design of upholstered furniture that is comfortable, functional and ergonomic.
Metal
The Metal sculpture takes its cue from the bent bars characteristic of the Polygon low table. In the upper part of the sculpture, the bars are connected by a round tube lined with leather, as Iin the armrest of the Kontrapunkt armchair.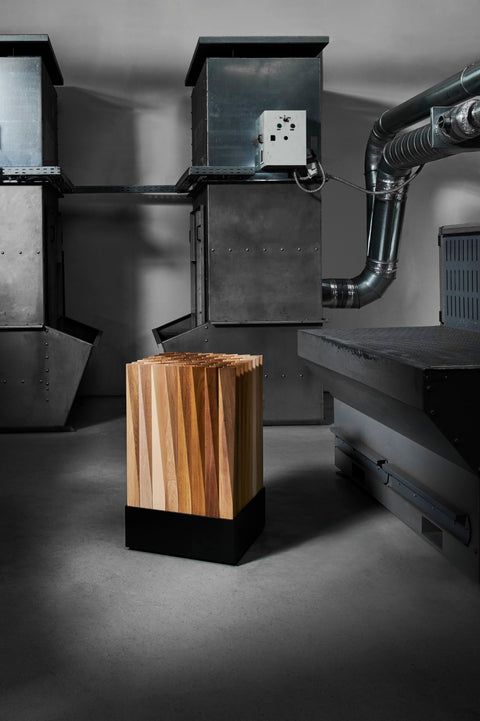 Wood
The Wood sculpture is inspired by the triangular shape formed by the legs of the Oblique table, multiplied into a regular grid of elements, made of different materials in different finishes.
Fabric
The Fabric sculpture presents various fabrics in a variety of colours, thicknesses and textures, in which cylindrical sponge forms are upholstered, and set on a metal base inspired by the Convert sofa base. It demonstrates Prostoria's skillful approach to the manufacture of fine upholstered furniture, and our considerable expertise in textile application and sewing techniques.